Blue World Media Limited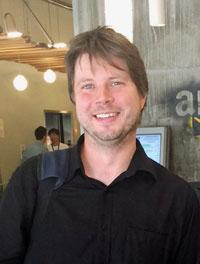 - James Cundle, Founder
James Cundle, Founder
I am a technology led entrepreneur with extensive full stack and DevOps experience. I have founded and co-founded businesses both in the UK and the US, most recently as technical co-founder and CTO of Y-Combinator backed Mio, a universal messaging platform.
I've been writing code since ten years old, and I created my first technology consultancy company in the late 1990's. I've been a staunch advocate of Open Source technologies and my development stack has typically reflected that. I've been involved in numerous vertical markets, working with companies of all sizes to help them realise their technical ambition.
Currently based and working in Austin, TX, I am also a UK national.
Full Stack
My experience is broad and can be found in detail here. My prefered stack is currently Node.js, PHP 7, Laravel and React but have worked with many others. I have extensive DevOps experience, automating deployments with Jenkins, Ansible and Docker. I have also lead projects on security and SOC 2 Type I and Type II, writing extensive documentation and preparing policies and standards for rollout.
Ready to find out more? ¯\_(ツ)_/¯
I'm always keen to discuss new ideas. Reach out to me on LinkedIn or Twitter, or you can simply email me at james at blueworldmedia dot com.
Blue World Media Limited is registered in the United Kingdom.
Company number: 38834057 VAT Registration Number: 724982703